The Anonymous People Review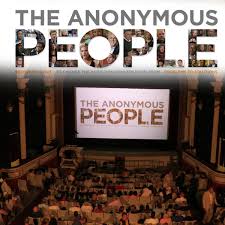 THE ANONYMOUS PEOPLE is a feature documentary film about the 23.5 million Americans living in long-term recovery from alcohol and other drug addiction.  Deeply entrenched social stigma and mass participation in widely successful anonymous 12-step groups have kept recovery voices silent and faces hidden for decades.  The vacuum created by this silence has been filled by sensational mass media depictions of addiction that continue to perpetuate a lurid public fascination with the dysfunctional side of what is a preventable and treatable health condition.  This film aims to change that public perception by asking us the question, "are you proud enough of who you are as a recovering person to be an advocate for those that still suffer?"  Are you willing to come out of the shadows and speak about you own recovery?
This film asks a tough question as the 12th tradition states, "Anonymity is the spiritual foundation for all our traditions."
For some this means that we shouldn't speak about our recovery but rather humbly remain silent outside of the rooms of AA or NA.  However, did not Bill Wilson speak before congress about his own recovery in AA on July, 24, 1969?  In his address to Congress Bill spoke the following words, "Because of my appearance here as an AA member, I have to limit myself pretty much to statements about AA. But you must remember that as time passes in these hearings a great many AA's will be testifying as citizens and they will be far more free to express opinions on the general field and their activities in it than I am."
When we look at the success that audacious advocacy has had on illnesses such as cancer and HIV and the way this openness, by those that have recovered, has changed funding and treatment for these diseases my decision has become clear.  I will speak, I will educate and I will advocate.  For people don't get sober in our treatment centers. Treatment helps facilitate change. People get sober in their communities. That means community outreach and that means I am willing to be seen and my story to be heard by community members outside of the rooms of AA.
Brendon Kerton
Program Supervisor
The Landing