Alumni Ski Trip – Park City, UT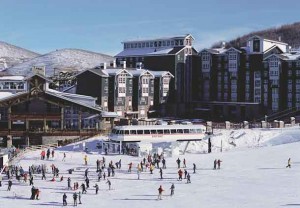 The Jaywalker Alumni Department is pleased to announce the scheduling of the Winter Alumni Expedition. This years trip will be to Park City, Utah. Thanks to the generosity of one of our alumni families, we have a slope side condo for a week from January 17 through January 24. We will be splitting the week between two groups of 8 alumni at the Marriott Mountainside resort. In addition to the world class skiing and snowboarding, the famous Sundance film festival will be happening as well. It's a good possibility I'll ditch day on the mountain and try to score some movie tickets.
The two annual Alumni expeditions are just a couple of the activities we offer our Alumni. We fielded two softball teams this past summer and the Jaywalker Hockey and Basketball teams are in full swing. We have also had an exceptional group of golfers who made a great showing at this years Jaywalker Serenity Scramble. Every wednesday afternoon our Alumni have the opportunity to share their experience with soon-to-graduate Lodge clients followed by one of Chef Brian's famous meals. This fall our Alumni have been gathering at the Alumni Clubhouse to enjoy Pizza and Sunday night Football. We also hosted our first annual 12 Step Hut trip this October. In addition to the many sports and recreational opportunities we have attended many cultural and musical events this past year.
Probably the most fulfilling and gratifying part of our Alumni Program is the many recovery and community based volunteer opportunities our men take advantage of. We have Alumni that drive our Lodge guys to meetings every night of the week,and many of our Alumni sponsor multiple men who are new to 12 step Recovery programs. Many of our Alumni volunteer to help with our outdoor expedition program and weekly outings. The Jaywalker Alumni Program was instrumental in keeping me connected to our vast sober community and continues to give our men the opportunity to give back what was freely given to them.
With Gratitude,
Mark Kloster
Alumni Coordinator