Alumni at Avalanche Hockey Game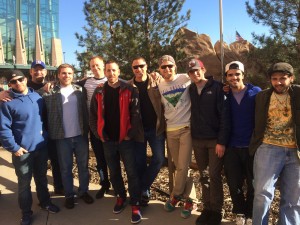 Last week we were lucky enough to watch the Avs play the St. Louis Blues in Denver and celebrate our third Front Range Jaywalker alumni event. 10 of Jaywalkers Front Range alumnus met at the Pepsi Center and ridiculousness ensued. Laughs were had, food was eaten and two alum who had not seen each other in 5 ½ years were reunited. It was a great day indeed. As we sat laughing and yelling, and enjoying the Jaywalker brotherhood, a thought repetitively crossed my mind. All of this almost didn't happen. I thought about how easily I could still be holed up in a dark room slipping away in my addiction. I thought about the past 5 ½ years and everything I've experienced and began to realize how precious what we have really is. It almost didn't happen, simple as that.
Every friendship, every moment of triumph, every moment of utter failure (which I now realize have been my most valuable moments). Every resentment that led to a friendship, every great day, every day I just wanted to quit. Every moment I didn't think life could be any better than it was. Every amend I had to make. Every moment of fear. Every time I acted like an egotistical ass and the humility that followed. Every birthday chip. Everything. All of it. It almost didn't happen. It almost didn't happen because I'm an addict and guys like me aren't supposed to make it. We aren't supposed to experience success or joy or true friendship or freedom from ourselves. I know this because for years I existed in that darkness, but I was given another chance. I found somewhere that allowed me to grow, to be afraid, and to be the goofy immature idiot I wasn't allowed to be when I was a kid because I was using before I had the chance not to use. Somewhere that I started to find myself. A little place where the 18 gallon tubs of ice cream flow like wine. A little place where young male drug addicts instinctively flock, like the salmon of Capistrano. A little place called Jaywalker Lodge.
Jordan H.