AA Founder's Day – June 10, 2013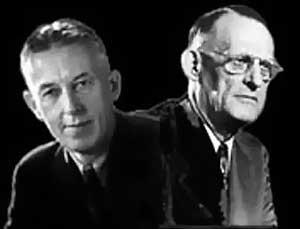 Alcoholics Anonymous Founders' – Bill W. and Dr. Bob
On Monday, June 10th 2013, Alcoholics Anonymous will celebrate the 78th anniversary since its founding in Akron, OH. June 10, 1935 is widely regarded as the "official" Founding date of AA. This was the day Dr. Bob took his last drink, to steady his hands before surgery, and marked the humble beginnings of what would become Alcoholics Anonymous.
Bill W. learned early on that the best way to stay sober was to carry the message to another struggling alcoholic. By reaching out and connecting with Dr. Bob he was able to maintain his own sobriety while giving hope to Dr. Bob that there was a spiritual solution to the alcoholic condition. This "Design for Living" stressed the need to seek out help from others, find a power greater than themselves, and to carry the message to other alcoholics. Through this partnership, and with the help of many other alcoholics and professionals, the 12 Steps of Recovery and the Big Book of Alcoholics Anonymous was born. This forever changed the landscape of Addiction and how society and the medical community viewed Alcoholism and it's treatment. Alcoholics Anonymous was instrumental in reducing the stigmatization of alcoholics and responsible for advocating a disease concept in lieu of a moral failing. The "inebriates" who were seen a hopeless mental defectives, who were destined to jail or mental institutions, finally had a Program that could result in long-term abstinence and emotional sobriety.
Today there are more than 2 million AA members in over 100,000 groups meeting in over 150 countries. In addition, the 12 Steps of Recovery have spawned the formation of numerous fellowships to serve those who suffer other addictions. The perseverance, vision, and faith of Bill W. and Dr. Bob have helped millions find a life of peace, serenity, and joy through a Practical Program of Action. Today and everyday, I will strive to be grateful for those who came before and carry the message of AA.
With Gratitude,
Mark Kloster
Alumni Coordinator