29 Years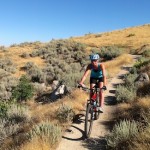 Jaywalker U Program Director, Janet DeMars, celebrated 29 years of sobriety yesterday! Janet has been with Jaywalker U for two years now and has been a tremendous help to the students as well as myself. Along with working individually with the Jaywalker U students, Janet also counsels students at Colorado Mountain College.
After moving to Carbondale from Minnesota Janet rekindled her love for the outdoors. She picked up mountain biking and road bike riding the day she got here. Recently, she started racing road bikes across the state of Colorado. Last month she participated in a 100 mile road bike ride and rumor has she will be entering another one next month.
Congratulations Janet and thank you for everything you do!
Donnie Hagenbart
Program Coordinator
Jaywalker U