2014 JWU Fall Orientation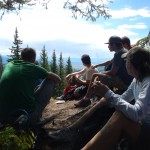 Every semester the Jaywalker U students embark on a team-building/transformational trip where they not only work on themselves but also bond with their peers. For the second year in a row the Jaywalker U men headed to Steamboat Springs to explore their inner selves, get to know their peers, and spend some time relaxing and playing before starting the fall semester.
We started the trip on Monday at Rabbit Ears Pass with local Carbondale life coach, Johann Aberger, for a day of hiking, climbing, team-building, and personal transformation. Throughout the day the students spent time looking at who they are and who they want to become all the while maintaining the principles of recovery and living a day at a time. At day's end, Johann challenged everyone to look at their values, their passions, and to write a life purpose statement.
After returning from the day with Johann, the guys bonded together and started a wood-fired sauna and enjoyed a well-deserved time of relaxation.
After a physically and mentally taxing day on Monday, it was time for the guys to let loose and head to the lake. Jaywalker U students spent two half days water skiing, wakeboarding, and tubing. This provided an opportunity for them to do something new, bond with each other, and have some fun.
The days spent in a remote area north of Steamboat Springs provided the guys many moments to get to know each other and to see how fun a life in recovery can be.
For more pictures of the trip click on the picture above!
Donnie Hagenbart & Janet DeMars
Jaywalker U