2013 JWU Fall Orientation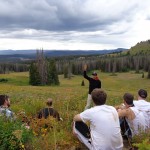 Every semester the Jaywalker U students embark on a teambuilding/transformational trip where they not only work on themselves but also bond with their peers. This year the Jaywalker U men headed to Steamboat Springs or as the locals like to call it, "The Boat." Our 100 year old rustic cabins provided a setting free of the distractions that come with being a college student. This set the tone and purpose for our fall semester orientation.
On arrival it was apparent that the students were out of their element and were feeling a bit uncomfortable. After a few hours of adjustment the guys began to look to each other for support and entertainment as opposed to their iPhones and computers. The first day set the tone for the weekend.
On our second day we headed to Rabbit Ears Pass with local Carbondale life coach, Johann Aberger, for a day of hiking, climbing, teambuilding, and personal transformation. This semester Jaywalker U is working hand in hand with Johann to help our students discover themselves. Throughout the day the students spent time looking at who they are and who they want to become all the while maintaining the principles of recovery and living a day at a time. Johann's main goal of the day's activity was to encourage the students to move out of their comfort zone. His philosophy is that when one is uncomfortable, then, one has the ability to change.  Through this process the guys were able to take away new ideas of what their future could hold and how they could support each other in this process.
After a mentally taxing day it was time for the guys to let loose and head to the lake. Jaywalker U students headed to Steamboat Lake Marina for a day of water skiing, wakeboarding, and tubing. This provided a time for the guys to do something new, bond, and have some fun.
At the end of our Fall Orientation Weekend the guys were comfortable with what was at first an uncomfortable situation. This weekend provided the guys a time to get to know each other, discover themselves, and have some fun.
For more pictures please visit us on Facebook at : Jaywalker U
Donnie Hagenbart
Program Coordinator
Jaywalker U