12 Men , 12 Steps, and a Hut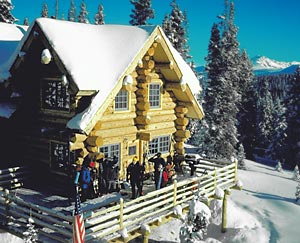 As a Jaywalker Alum, it's an honor and a privilege to have the opportunity to take all of you through AA's 12 steps using the Golden Slippers format…Taking my fellow Jaywalkers through this is truly a gift." Tyler R.
In one short week from today, 12 Jaywalker alumni will embark on an Alumni Expedition and spiritual journey. We will participate in an intensive 12 step workshop facilitated by alumnus, Tyler R. We are traveling to Chuck's Hut/Shrine Mountain Inn near Vail pass to engage in a three day spiritual experience in a sacred setting.
We will share our experience, strength, and hope with each other as we work all 12 steps over the weekend. This is by no means a short cut through the steps, this is just an opportunity to deepen our practice and experience true intimacy among men. The Golden Slippers format helps provide and solidify the foundation necessary for a lifetime of recovery and a genuine desire to carry the life changing message of Alcoholics Anonymous to others. We hope this expedition will serve as a model for intensive 12 step work that we can offer to all of our Jaywalker Alumni in the future.
No, I'm not sure what the Golden Slippers refers too…perhaps old men who were frequent relapsers or maybe, magical gilded house-shoes which when clicked together rocket us into the 4th dimension ! Either way, I'm anticipating a transformative weekend in the mountains.
With Gratitude,
Mark Kloster
Alumni Coordinator