We Believe #7: Collectively, All of Us at Jaywalker Lodge Are Capable of Absolutely Anything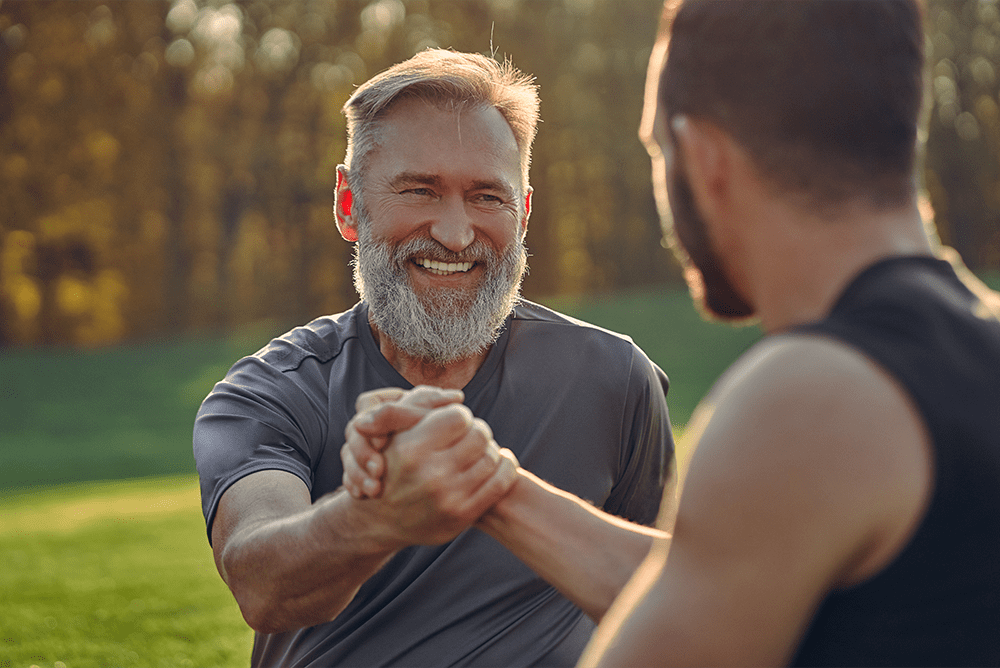 At Jaywalker Lodge, we are guided by our beliefs. The core values that we hold direct our every action and decision. We believe so strongly in our system of values that it consciously informs everything we do here. How we conduct ourselves, all of our day-to-day interactions and activities, all of it comes from the heart of Jaywalker Lodge. It's more than a code of ethics, and it's more than a list of platitudes. What we believe in is our heart here. The heart of Jaywalker Lodge is driven to help men recover from alcoholism and addiction. That's what motivates, inspires us, and drives us every day.
We ourselves once struggled to recover from alcoholism and addiction. We stumbled many times, and seemingly nothing worked for us. We were the Jaywalker from the Big Book of Alcoholics Anonymous. Finally, we found the help that made a difference. We were shown the true meaning behind the 1st-Step and what it really meant for us. We were taken through the 12-Step solution and our lives were saved. We found recovery, and since then, nothing has been more important in our lives than helping people just like us finally break out of the cycle of chronic relapse.
This educational approach made the difference for us, and we apply it here at Jaywalker Lodge with all who come to us. The important lessons we have learned in our own journies have helped us build a firm foundation. We stand by what we believe in, and we live it every day. We've taken 12 of our most important beliefs and put them into a list. Every month, we're going to look deeper at one of our beliefs.
This is What We Believe #7. "We believe that collectively, the staff and men at Jaywalker Lodge are capable of accomplishing absolutely anything we set our minds to." This is one of our core beliefs that really gets us excited. This is part of what keeps us always in hope, enjoying the present, and awaiting the future with joy instead of fear. We get to see our belief come to fruition all the time at Jaywalker Lodge. We see men in our recovery community live their dreams and experience joy, meaning, and fulfillment every day in their lives in recovery.
Recovery Is a Promise, Not a Punishment
More than anything at Jaywalker Lodge, we believe in the 12-Steps of recovery. We know without a doubt that recovery is not about paying the consequences for our past in our disease. Absolutely not — recovery is about the promise of a bright and hopeful future. If our lives in recovery weren't better than our lives before recovery, there wouldn't be much keeping us here. It is the very point of the program of recovery to become happy, joyous, and free. It says exactly that in the book Alcoholics Anonymous. You will often hear people in meetings say that recovery has helped them live a life beyond their wildest dreams. We don't really find this to be an exaggeration.
The disease itself is punishment enough, and the course of the 12-Steps helps us make amends for the past as best as we can. After that, we leave the past behind. We heal, and we grow, and the past no longer dictates our future. We have to face facts — after all, recovery begins in a pretty hopeless place. But at Jaywalker Lodge, we are all about growing hope and keeping it before us like a guiding star. Recovery is all about hope. We can heal from what we thought would always hurt us. We can go well beyond whatever limits we thought were placed on our life. Recovery is nothing short of a miracle.
We Can Do Anything
We can accomplish anything we set our minds to. Absolutely anything! We once thought it was impossible for us to find recovery, but here we are. Nothing is impossible anymore. Please notice the word "we" — that's a very important ingredient in this recipe. Collectively, we can do anything. "We" includes the Jaywalker Lodge staff, the men, our sponsors, members of our recovery community, and more. We are going to have a real hard time if we try to do it all alone. Recovery doesn't make much room for going solo. There are certain actions only we can take. Only we can make ourselves willing, but most everything else in recovery we do together. We need each other for meetings, for working through the 12-Steps, and for being of service. If we embrace the collective "we," the sky isn't even the limit anymore. It goes way beyond that.
Life in recovery is about becoming joyous and free. It's about becoming the person we've always wanted to be. It's about living the life that our disease stopped us from living. But there's an important caveat here — service. We must live our lives in such a way that accomplishing our dreams is done in service to others. The more beautiful and wonderful our lives get in recovery, the more we must share with others to show the newcomer or the people still struggling what is really possible in recovery.
Alcoholism and addiction are destructive, debilitating diseases that can ruin the lives and steal the hope of anyone who suffers from it. However, there is a solution — the 12-Step program of recovery. This solution is incredibly effective, although not when it is taken alone. It must be worked alongside others who have gone through the process. It involves becoming part of a recovery community, with indefinite and constant participation. For those who wish to be free of this fatal disease, it's a small price to pay. Those who earnestly want to recover need only to be willing to work the 12-Steps, honest in the work they do, and open-minded to the actions and results. This method of recovery has proven effective for so many who had no other way out of the prison of alcoholism and addiction. Jaywalker Lodge is here to help you begin your recovery journey. Call us now at (866) 529-9255.