Service Trip to the Maroon Bells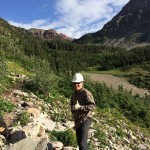 Solutions recent service trip was up near Aspen at the base of North Maroon; doing trail restoration with the Colorado Fourteeners Initiative.  We at Solutions are very familiar with car camping.  We've become quite adapt with our giant griddle for bacon and pancakes, my Neo-Air Dream sleeping pad, and trash bags that we can fill at will.  When I started planning the trip up to the Bells; I realized this was going to be much different than the usual car camping.
Thankfully, I had Lodge Expedition Assistant Dave Krimstock to help me prepare.  The two of us got all the food ready, split the tents up, and packed the packs.  We got enough food to feed the equivalent of 30 normal people.  It was a lot of supplies (including shovels and heavy pick axes) to pack two miles up an inclined trail to get to base camp.  Luckily we had the hiking prowess of Dan Reed to help us lug the exorbitant amount of food up to camp.  Dan had to peace out after the hike to say farewell to his daughter who was on her way back to Israel.  When we made it to camp, to say it was worth it, was an understatement.  It was what Colorado must have looked like to the early pioneers.  Snow fields up on peaks in close proximity to us.  Billy the goat and his kid stalking us for our urine.  Apparently goats really like urine.  No Sprinter bus to charge our cell phones.  We were finally camping at last.
The work was hard.  Moving 20-80 pound rocks down a trail for steps and retaining walls; then digging out spots for the rocks to fit into place.  We got right to it, as we normally do, and completed 2.5 days' worth of trail work on our first full day.  Once again the clients went above and beyond what the volunteer organizations expect of them.  I cannot tell you how many times I have seen that.  It has become the rule not the exception.
Thank you again to Colorado Fourteeners Initiative for allowing us to be of service.  The volunteer organizations we work with should know the good they do for our guys.  It is immeasurable.  Gratitude all around.
For more pictures of our trip please click on the picture above.
Cary Pew
Program Coordinator
Jaywalker Solutions